Stay at Home with Speak Teens | # 22 - Dreams
by The Speak Teens Team, on 17/04/20 10.54
Alzi la mano chi non ne ha almeno uno nel cassetto. Piccoli o grandi, i sogni ricoprono nelle nostre vite una parte molto più importante di quello che si potrebbe pensare. Non lo affermiamo noi ma il numero crescente di ricerche scientifiche a sostegno dell'importanza di porsi degli obiettivi per migliorare e allungare la propria vita. E oltre i "sogni ad occhi aperti" ci sono ovviamente i più "classici" ad occhi chiusi, quelli che viviamo nelle ore notturne o durante un sonnellino pomeridiano. Vi siete mai chiesti che significato abbiano? Ne parliamo nella puntata di oggi con i contenuti video, audio e fotografici.
Il tema del giorno: Dreams

Short of the Day:
Ti sei mai chiesto quale significato avessero i tuoi sogni? E perché mentre dormiamo, sogniamo? Fin dall'antica Mesopotamia, i sogni venivano annotati su tavole di cera e si cercava di interpretarne il senso. Centinaia di anni dopo, le ricerche nel provare a capire il loro significato non si sono ancora fermate. Il video che oggi proponiamo cerca di rispondere a questi quesiti, rivelandoci alcune delle teorie utili a spiegare questo fenomeno.
Guarda il video con attenzione e cerca di rispondere alle domande che seguono:
Question 1: What did Sigmund Freud's theory about dreams and nightmares say?
Question 2: An experiment conducted in 2010 showed that dreaming while sleeping is better. What did this experiment demonstrate?
Question 3: What does the theory of dreaming called reverse learning claim?
Question 4: What does the Continual Activation Theory propose?
Question 5: What does the Primitive Instinct Rehearsal Theory say?
Question 6: And you? Do you remember your dreams? Talk about a significant dream or nightmare you remember.
Song of the day: The Climb – Miley Cyrus
Quanti sogni hai ancora da realizzare? Sono tanti, vero? Che si tratti di diventare un pianista di fama internazionale, di comprare una moto o semplicemente di superare l'anno scolastico con successo, i sogni ci motivano, ci spingono ad andare avanti e di sperare ardentemente che quello che desideriamo un giorno diventi realtà. Tuttavia, la strada per arrivare a quello che vogliamo è molto spesso costellata di ostacoli e somiglia più che altro ad una scalata. La canzone che abbiamo scelto per il tema di oggi è The Climb di Miley Cyrus dove appunto viene raccontato di quanto sia ardua questa scalata, a volte si vince, a volte si perde, ci sono dei rischi da correre, ma l'importante è non perdere mai la speranza e di continuare a scalare, keep on moving, keep climbing.
Ascolta The Climb, guarda il video, leggi con attenzione le lyrics ed infine rispondi alle domande del questionario.
Question 1: "I can almost see it, that dream I'm dreaming but there's a voice inside my head saying, you'll never reach it" – was there a time when you told yourself you would never make your dreams come true?
Question 2: "There's always gonna be another mountain, I'm always gonna wanna make it move" – what does this expression mean?
1. I can move mountains, it's easy
2. There is always going to be obstacle in the way but I'll be able to overcome it in the end
3. When there is a difficulty, I'm sure I will give in
Question 3: Can you translate the words "struggles" and "chances" in Italian?
Question 4: "Ain't about how fast I get there, ain't about what's waiting on the other side - it's the climb" – do you think there is a deadline for achieving your goals?
Question 5: What is your biggest dream? Do you think you are going to achieve it?
Photo of the Day:
"Sogno di dipingere e poi dipingo il mio sogno" – diceva il celeberrimo artista olandese Vincent van Gogh. Starry Night è uno dei suoi dipinti più famosi e richiama il fascino e il mistero della notte. I nostri desideri, i pensieri le preoccupazioni e le speranze vengono modificate dal nostro cervello e si presentano attraverso i sogni che ci accompagnano mentre dormiamo. Da Sigmund Freud sino ai neuroscienziati più famosi i sogni sono sempre stati fonte di curiosità, e forse non cesseranno mai di restare avvolti nel mistero.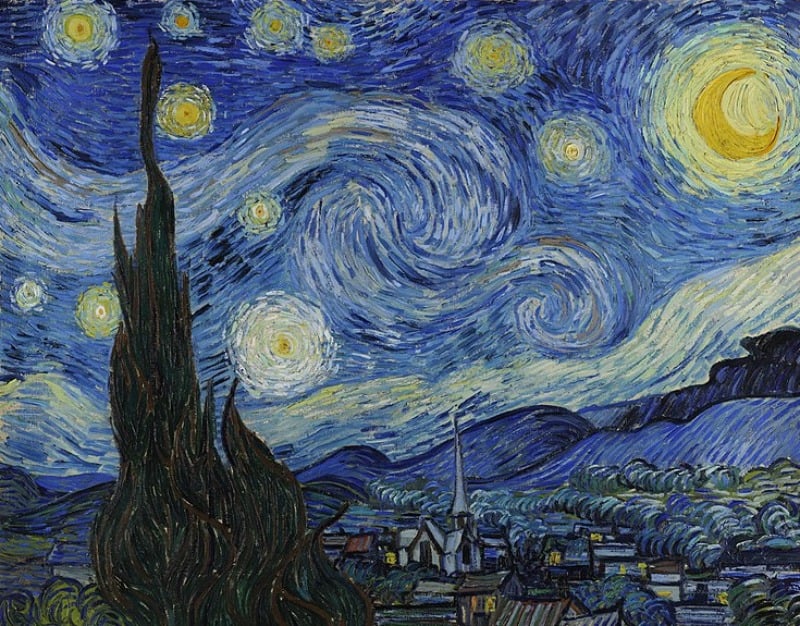 Do you tend to remember your dreams?
Have you ever had a bad nightmare? nightmare = incubo
Have you ever dreamt in English or in a foreign language?
Have you ever had a dream you then experienced in real life?
Language Focus: the verb "hope" - present and future
Il verbo hope è usato al presente o al futuro per parlare di qualcosa che ha una buona probabilità di accadere.
Di solito è seguito o da una frase introdotta da that (che spesso può essere omesso) o da una infinitiva to + infinito. Dai un'occhiata agli esempi qui di seguito:
I hope that you enjoy your holiday Spero ti goda le vacanze

I hope to be there soon

Spero di vederti presto

Possiamo anche usare hope nelle risposte brevi: I hope so (spero di sì) e I hope not (spero di no).
Uso di hope al presente
Può essere usato al Present Simple, il tense piò usato con questo verbo, o al Present Continuous.
I hope (that) you are well Spero (che) tu stia bene
I hope (that) you are having a nice time on holiday Spero (che) tu stia passando delle buone vacanze
Uso di hope al futuro
Può essere usato sia al Present Simple (più comune) o al Future Simple (meno comune). Di solito il significato non cambia.
I hope that he comes back soon

Spero (che lui) torni presto
I hope that he will come back soon Spero che tornerà presto
Spesso hope è seguito dal verbo can in una frase al futuro.
I hope you can come to dinner tomorrow Spero tu possa venire a cena domani
Se il soggetto della frase principale con hope è lo stesso della subordinata, questa può essere una infinitiva to + infinito.
I hope to be at your house by 13.00 (= I hope I will arrive at your house by 13.00.)
Spero di essere a casa tua per le 13.00 (= Spero che arriverò a casa tua per le 13.00.)
I hope to visit the USA next year (= I hope I will visit the USA next year.)
Spero di poter visitare gli Statu Uniti l'anno prossimo (= Spero che visiterò gli Stati Uniti l'anno prossimo.)
Una questione di allenamento
La strada per realizzare i propri sogni è costellata di perseveranza e tanto allenamento. Lo stesso che ci vuole per padroneggiare una lingua straniera (l'inglese, nel nostro caso). Se volete continuare ad esercitarvi con dei contenuti interessanti, ecco dove potrete trovare altro materiale:
Ora che anche questo episodio è finito non ci resta che darvi appuntamento a venerdì prossimo. A presto!