Stay at Home with Speak Teens | # 12 - Personal Feelings & Experiences
by The Speak Teens Team, on 24/03/20 12.36
C'è chi ama dedicarsi al volontariato, chi invece non riesce a resistere al brivido degli sport estremi o al fascino indiscusso del mondo naturalistico. Ognuno di noi ha collezionato almeno un'esperienza da ricordare nella vita, anche se stiamo ancora muovendo i primi passi nel mondo dei "grandi", ed ognuna di esse ha suscitato in noi un particolare sentimento, un'emozione più o meno descrivibile a parole. Nell'articolo di oggi parliamo di tutto questo: Personal Feelings & Experiences.
Il tema del giorno: Personal Feelings & Experiences
Come in ogni episodio, affronteremo il tema attraverso una serie di contenuti multimediali, cui seguiranno domande di comprensione per testare il vostro inglese. Partiamo!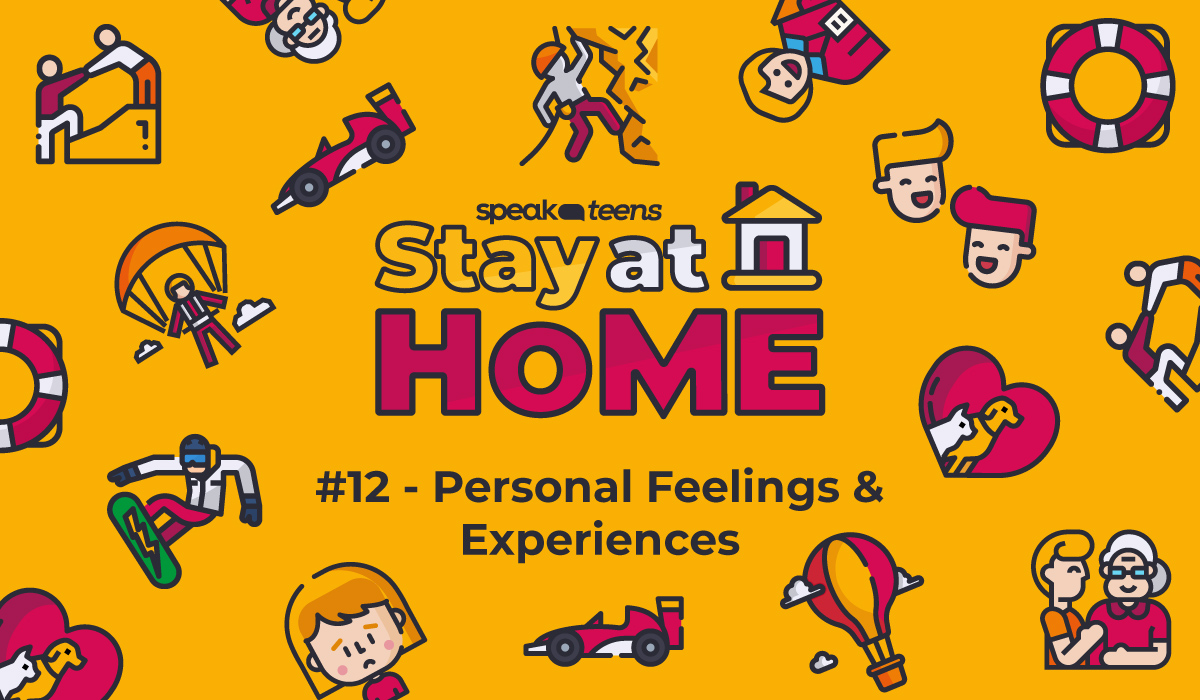 Short of the Day: Purl
Le nostre esperienze personali smussano il nostro carattere e la nostra persona, a volte ci mostrano ciò che realmente siamo o ci fanno scoprire sensazioni sopite ed emozioni nuove. È un po' quello che succede nel cortometraggio che oggi vi proponiamo. La scrittrice e regista Kristen Lester, nel comporre la storyline di Purl, si è ispirata alle sue prime esperienze lavorative nel campo dell'animazione. Il video ci mostra infatti l'esperienza di un gomitolo di lana assunto come impiegata di un'azienda a predominanza maschile. Come verrà accolta dai suoi colleghi? Scopriamolo insieme!
Guarda il video e cerca di rispondere alle domande di comprensione seguenti:
Question 1: How is Purl welcomed by her new colleagues?
Question 2: What happens during the meeting?
Question 3: What are Purl's feelings after the meeting?
Question 4: Why does Purl change her outfit? What does this change mean?
Question 5: What changes does Purl bring in her office?
Song of the day: That's Life - Frank Sinatra
Il tema che affrontiamo oggi è Personal Feelings & Experiences, parliamo quindi di sentimenti, di emozioni e di esperienze, in altre parole… di vita! La canzone che come poche altre rappresenta quello che per la maggior parte di noi è la vita, ovvero l'alternarsi ininterrotto e ciclico di esperienze positive e negative, è la storica That's Life scritta ed interpretata dall'indimenticabile cantante americano Frank Sinatra. Questo brano ci insegna che tutto capita per una ragione e che c'è sempre da imparare qualcosa dai propri errori e dalle sfortune, basta ripetersi lo stesso mantra ogni qualvolta ci capiti qualcosa di spiacevole: that's life (è la vita!), tutto si sistemerà, domani è un altro giorno.
Ascolta attentamente That's Life, analizza le lyrics e successivamente rispondi alle domande proposte qui di seguito.
Question 1: In the first verse of the song, you read the line "you're riding high in April, shot down in May but I know I'm gonna change that tune". What do you think this actually means?:
1. I climbed a mountain in April, I tripped and fell on the floor in May and now I'm fine
2. I was doing well in April, very bad in May but I know things will change again
3. I rode a horse in April, got off the horse in May and now I don't know what else I can do
Question 2: Frank mentions he has been many things in his life. Can you find these in the lyrics?
Question 3: What does the expression "back in the race" mean in your opinion?
Question 4: What is the best experience you have ever had in your life?
Question 5: Do you think the "that's life" attitude is the right one when it comes to negative experiences?
Photo of the Day:

Hot air balloon
La foto di oggi richiama una delle esperienze più incredibili che si possano fare nell'arco della vita: andare in mongolfiera. L'idea di sperimentare il volo è qualcosa che l'essere umano ha da sempre rincorso; la sensazione di libertà e leggerezza e le forti emozioni che ne derivano spingono le persone a superare i propri limiti e ricercare nuove esperienze che arricchiscano il loro bagaglio e garantiscano nuove emozioni.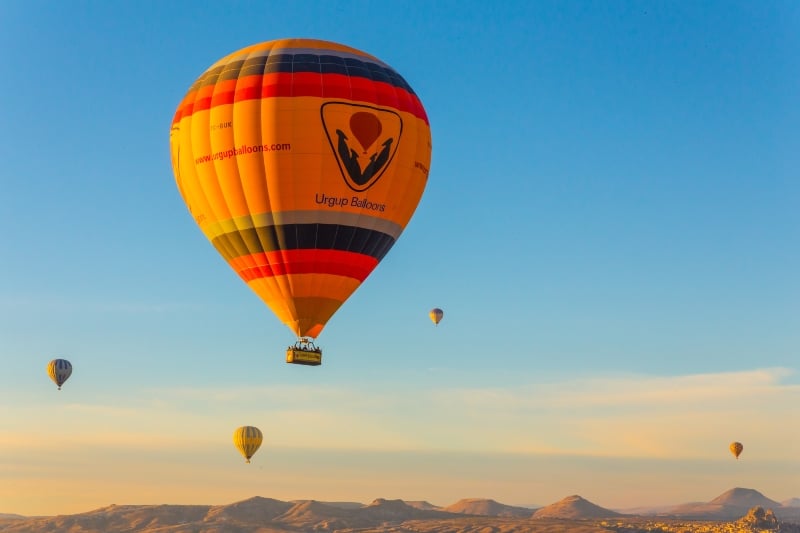 Dal bungee jumping al paracadutismo sono tantissimi gli sport e le attività che stuzzicano lo spirito avventuriero di coloro che sono sempre alla ricerca di emozioni forti.
Alcune parole chiave:
Adrenaline

- adrenalina

Feeling

- sentimento

Excitement

– una forte emozione positiva

Fearless

– senza paura

Scary

- spaventoso

Breathtaking

- mozzafiato
Language Focus: Expressing Feelings
A volte dovrai condividere le tue emozioni, come la gioia o il dolore, con le persone con cui stai parlando. In inglese ci sono determinate frasi che si usano per esprimere come ci si sente e, ovviamente, gli aggettivi svolgono un ruolo fondamentali. Trovi qui di seguito le frasi e il lessico più utile:
Domande per chiedere come ci si sente
Per domandare come ci si sente puoi usare le seguenti domande:
You look a bit unhappy. Everything OK? Sembri un po' triste, va tutti bene?
How are you feeling today? Come va oggi?
What's wrong? Cosa c'è che non va?
What's the matter? Qual è il problema?
You seem a little bit tired. Are you sleeping ok? Sembri un po' stanco. Stai dormendo bene?
How are things going? Come stanno andando le cose?
How are you getting on? Come sta andando?
Is everything OK / alright...? Va tutto bene?
Esprimere come ci si sente
I feel a bit unhappy / angry / tired etc... Mi sento un po' triste / arrabbiato / stanco / ecc…
I am a bit unhappy / angry / tired etc... Sono un po' triste / arrabbiato / stanco / ecc…
To be honest, I'm a little bit unhappy / angry / tired etc... Se devo essere sincero, sono un po' triste / arrabbiato / stanco / ecc…
It's a difficult period but… È un periodo difficile ma…
To be honest with you, I'm a bit… Se devo essere sincero, sono un po'…
Alcuni degli aggettivi più comuni per esprimere come ci si sente:
Happy - felice
Afraid - impaurito
Sad - triste
Amused - divertito
Bored - annoiato
Anxious – agitato / ansioso
Confident - fiducioso
Tired - stanco
Excited - entusiasta
Nervous - ansioso / nervoso
Ripasso, quiz e premio settimanale
Dopo questo carico di inglese non resta che salutarvi al prossimo episodio. Se invece non siete ancora stanchi di allenarvi, vi consigliamo di continuare con gli esercizi linguistici proposti negli ultimi giorni: al termine dell'articolo di venerdì scorso troverete un quiz riepilogativo con il quale mettervi alla prova, a fine settimana riserveremo un premio per il lettore più attento.
E in più, la puntata di ieri: