A land of wine and chocolate
In the northwest of Italy lies the second largest region of Italy, Piemonte, (Piedmont in English), which is bordered on three sides by mountains, and also by France and Switzerland. Here you will find ancient castles, palaces, beautiful town squares and architecture, national parks and botanical gardens. It is also a major wine and rice growing area and offers excellent local dishes.
Massive rugged peaks, damp rice fields and gentle, undulating countryside form this interesting part of Italy. Many crops are grown in the lowlands which are extremely fertile and it is one of the great wine growing regions of Italy with more than 350,000 sq kilometres of land, producing excellent prestigious wines such Barolo, Barbaresco and Moscato d'Asti.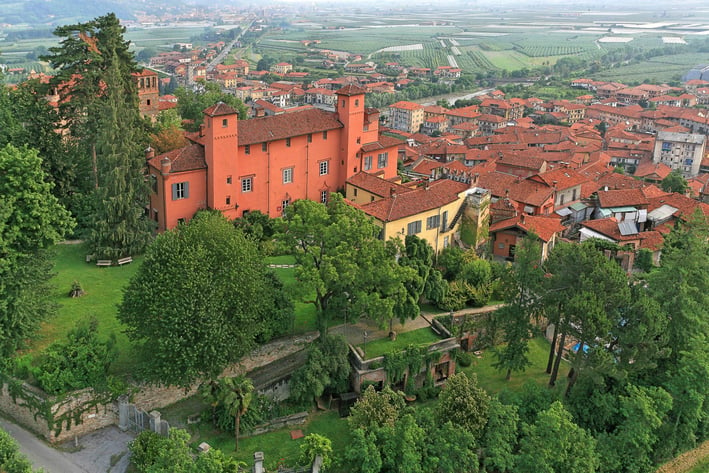 Costigliole Saluzzo
The next Speak Programme will take place in Castello Rosso, pictured above, a beautiful castle near to the town of Costigliole Saluzzo in Piemonte. Castello Rosso dates from 1625 and today offers many rooms with all the comforts of modern living combined with original frescoes.
In the town of Costiglione Saluzzo stands an elegant building, the Palazzo Sarriod de la Tour, which is particularly attractive at night when lit up. You can enjoy a stroll in the beautiful park which adjoins it, and guided tours are available and last about 40 minutes. There is also an interesting privately owned museum of wine and farm tools called the Ecomuseo del Quagliano, where the owner will take you around his amazing collection.
Saluzzo
10km to the north lies the larger town of Saluzzo where you will find the 15th century centre more or less as it was originally. Pretty cobbled streets wind up the hill passing churches and elegant facades. Head for the Piazza Mondagli which is a particularly lovely square and on to Piazza Castello which has a historic fountain called Drancia in the middle. If you tire of monuments you can visit the delightful Botanical Gardens of Villa Bricherasio. Saluzzo has its own distinct cuisine with several local specialties such as "paglierine" cheese and the "white hen" chicken dish of the town.
Cuneo
The best known city in Piemonte is Turin which has a population of about 900,000. 90 minutes south of Turin is the commune of Cuneo which is situated more or less in the centre of the region of Piemonte. Cuneo is the capital of this part of Piemonte and is 13 kms to the south of Costiglione Saluzzo, situated at the foot of the Maritime Alps. Founded in 1198 by the local people, it was declared an independent commune not under the rule of the local bishops and aristocracy. Today it is a city of over 56,000 people which welcomes tourists from all over the world. A visit to the historic centre is a must to enjoy beautiful architecture and grand squares. The main street offers excellent shopping opportunities or you could sit in one of the cafés and people watch.
One of the town's main specialities is cholcolate! Especially chocolate with rum. Pop into Arione bar to have a coffee and to sample some of the Cunese chocolates.
Wine and cuisine
As already mentioned, Piemonte has its own specialities - cheeses, chocolates and chicken dishes. It is also famous for its antipasti and you should try the bagna cauda which is a warm sauce of garlic, anchovy, olive oil and butter into which you dip raw vegetables, or why not try a fonduta, a fondue made with Fontina cheese?
Since Carnaroli rice is grown in the region, risotto is one of the most popular dishes, often made with local salamis or with butter and truffles. Beef is the main meat of the area and you will find many delicious versions of brasato al Barolo, where the meat is braised in red Barolo wine.
Speaking of wine, there are several prestigious wines grown in the area. The great Barolo is made from the Nebbiolo grape while you will find another 17 wines made from the same grape or a mixture using Nebbiolo. Barbaresco is known as the "little brother" of Barolo but is nowadays produced to the same exacting standards. Moscato d'Asti is white sparkling wine with a low alcohol content and a sweet taste and is an excellent dessert wine. There are 2 interesting white wines produced in this mainly red wine region, Garvi and Arneis, the Garvi being a dry white while Arneis is medium dry. Plenty of reason to sample the wonderful wines of this Italian reason!
Written by Sally Veal