2017 was an incredible year for our Speak English Immersion Programmes...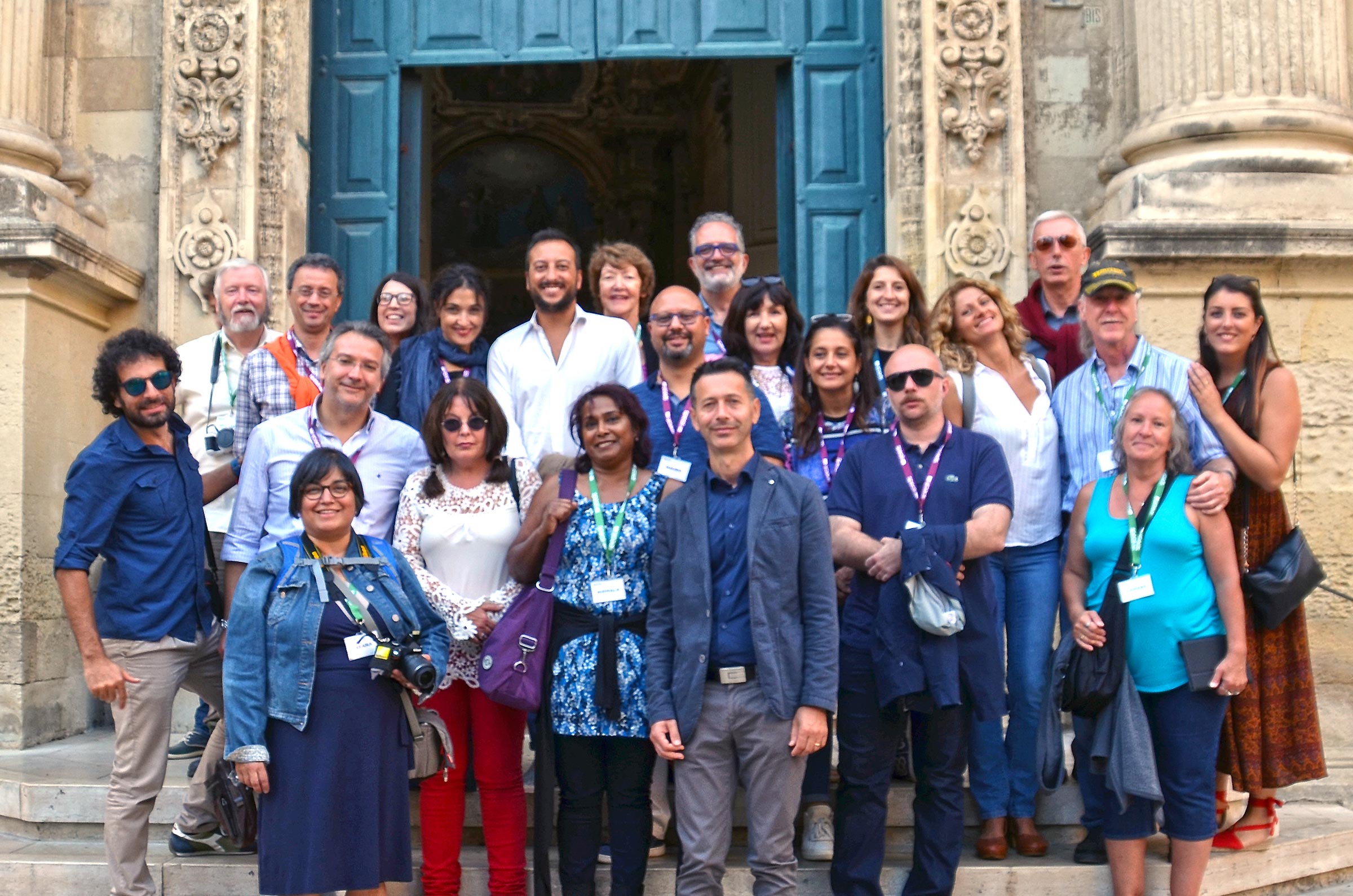 A year where unforgettable memories were made and lifelong friendships formed as we experienced the beauty and charm of Italy, bringing together Italians from every corner of Italy and Anglos from around the world. Italians had a unique opportunity to rapidly develop their communication and confidence in English through natural conversation with our Anglos. And it all happened in a place overflowing with history, beauty and charm, where delicious cuisine and wine awaits around every corner. It's not going too far to say that all of our lives have been enriched and the experience has given us something more than just a week of fun in Italy.
There are indeed many highlights from every location - whether its Tuscany, Puglia or Piemonte – offering something special. We've decided to pick a few to share with you.
The Abbazia di Spineto, nestled in the heart of Tuscany, is over a thousand years old, standing at once graceful and majestic.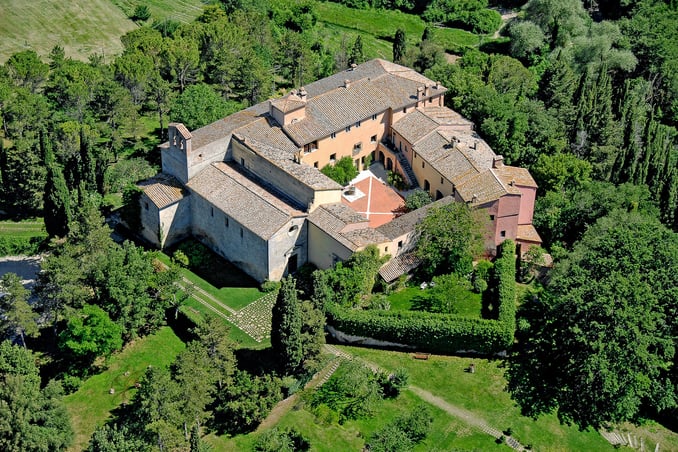 Having been restored, the Abbey is still in use and forms part of the building inhabited by the Cuccia family – and, of course, Speak participants, when we are lucky enough to visit. At the Abbazia di Spineto you are surrounded by beautiful rolling forested hills, as well as an incredible private collection of art, sculptures and artefacts, collected over a lifetime by Dott.ssa Cuccia – the owner of the Abbey - and her family. To be given a private tour and insight into all the pieces which span the globe, by Dott.ssa Cuccia herself, is indeed something quite special. From ancient Etruscan pottery to tapestries to paintings, carvings, exquisite glassware and countless treasures…everything is bursting with life and stories waiting to be told.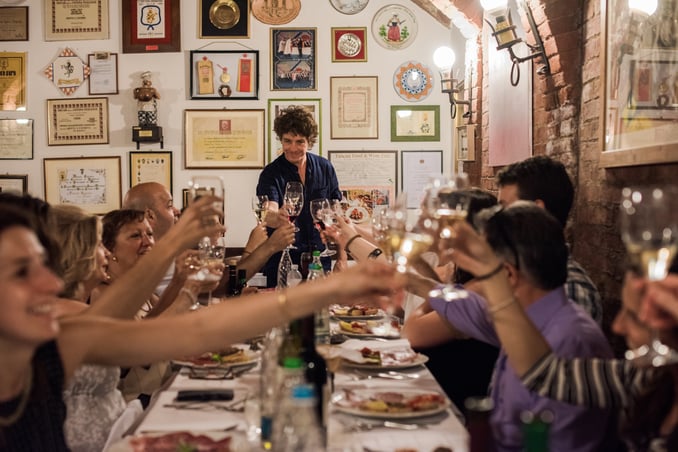 The Abbey offers a peek into another world and this includes incredible Tuscan cuisine. Every day brought wonders to the table, but the cherry on top was the 'Itinerant dinner' where we were led through the endless kitchens and cellars experiencing Tuscan culinary delights at every turn – a dream for the palette! You might be fearing for our waistlines, however an afternoon's walk in the forested grounds or down to the lake always helps to get the blood flowing. We also reluctantly left the Abbey on occasion to explore the region which took us to the hilltop town of Montepulciano and the 'perfect Renaissance city' of Pienza – both not to be missed!
Every location has something special to offer, and many sunshine-filled days were spent in Puglia at the stunning Mediterranean-style hotel of Tenuta Centoporte, soaking up the sun or in the pool, surrounded by olive trees as far as the eye can see.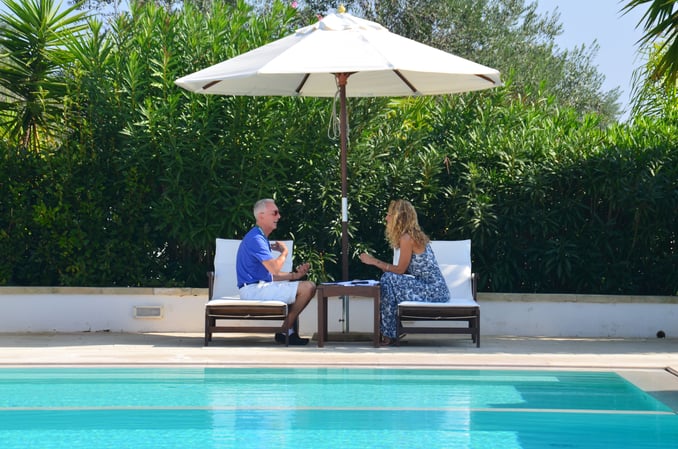 Each day, conversations between Italians and Anglos took them by bicycle or taxi, to the coastal town of Otranto where they enjoyed perhaps too much gelato and then wandered through the old town and along the promenade looking out at the azure waters of the Adriatic.
One of the Speak adventures was our trip to the caves of Zinzulusa including a boat ride along the jagged coastline - the perfect tonic to the wonderfully hot Southern Italian sun. We also had the pleasure of exploring the magic of Lecce, which is often referred to as the "Florence of the South" and for good reason: it's a place you have to see for yourself and enjoy a few hours absorbing the mesmerising ambience while surrounded by Baroque architecture and historical sites such as the Roman amphitheatre. After our tour, some great shopping and, naturally, an aperitif, we settled down to a sumptuous dinner. It goes without saying (and yet must be mentioned), that after every day - filled with gelato and delicious Italian cuisine - there was some serious need for a bit of footloose and fancy-free dancing and music – always a good way to end a day.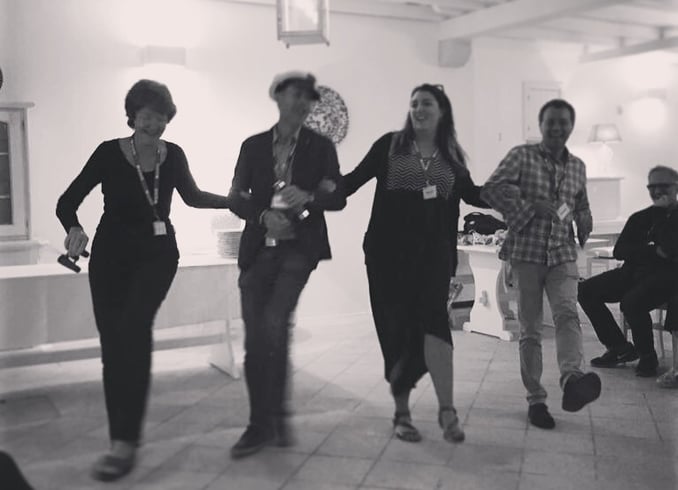 Speaking of music – or rather singing its praises – we now turn to Castello Rosso in Piemonte where we had our first Speak concert, bringing together Italians and Anglos for a wonderful night of song and revelry!
The performances ranged from Mr. Sandman by the delightful Panini Sisters to original sassy songs and melodies, as well as duets and collaborations entertaining us all late into the evening. This showed us once again that we had in our midst Italians and Anglos with a whole bunch of talent and even more style!
Castello Rosso has a history dating back to the 1400s, and from its hilltop looks across the expanse of the Varaita Valley and the Alps, snow-capped and serene in the distance. It provided the perfect ambience for a week of music and storytelling – where the piano often set the scene. Oh - I must also mention our intriguing treasure hunt around the Castello's grounds, revealing clues that lead us ultimately to the wine bar in town for some rather generous Gluwein to warm up an Autumn night! Just part of the fun.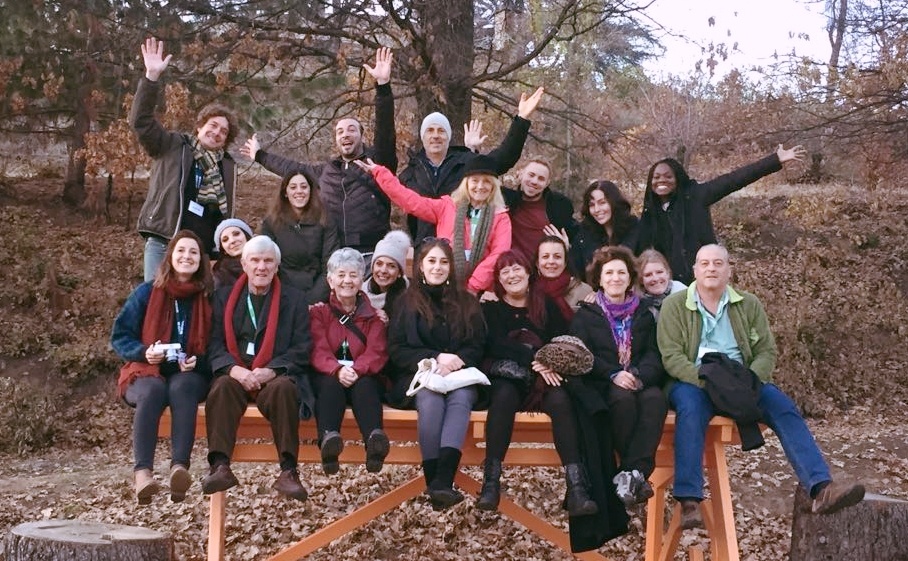 That's it for our whistle-stop tour of last year's adventures and we look forward to another year of surprises. What's not been a surprise however, is the English that the Italians have taken away from the experience. Through a unique and an unprecedented immersion in English, they made rapid and incredible progress in their English communication and, indeed, confidence – and here huge thanks goes to our wonderful Anglos from all the corners of the world! It was a unique experience for everyone that will live long in the memory. We arrived as strangers but left as friends. If you're reading this and missed out, or if you were a participant in any of these unforgettable moments and feel that I have done a poor job at painting the scenes, please forgive me, but as we know - you had to be there!
Rustin Schutte