---
What does a typical day with Speak entail? We look at 24 hours of a Speak English Language Immersion programme and at the extra activities you will enjoy.
No doubt many of you are wondering what you would be doing on a Speak programme. As Anglos, you will find your day well structured but with plenty of scope for individual expression. We take a look at a typical day with Speak: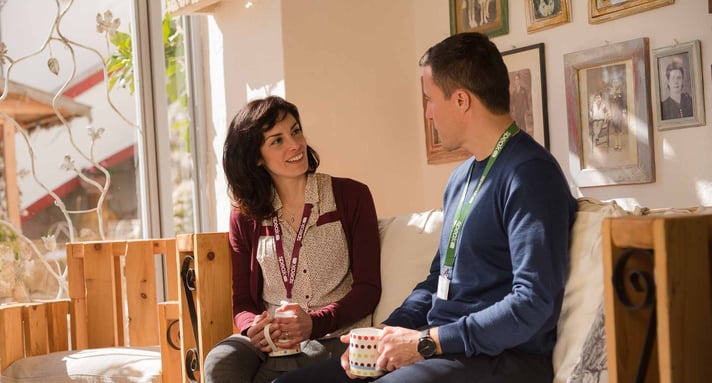 8.00am
Start the day with a full buffet breakfast and cup or two of Italian coffee. Breakfast is enjoyed together - at every opportunity there is a mix of Anglos and Italian students. You can choose where and with whom to sit, but there are usually a minimum of two Anglos and two Italian students at each table. The idea is to chat away naturally in English.
9.00am - 12.00 noon
Usually you will have 3 one-to-one conversations for 50 minutes with different students. Sometimes you will be given suggested topics to discuss, other times it's up to you to decide the subject to start with - often as the conversation flows the discussions will naturally move onto to other areas of conversation.
During this time, you and the students are free to walk about the beautiful grounds of the hotel or sit in a quiet shaded spot if it's hot. You will get to know the students quite well in a short space of time and in the same way they will learn a lot about the volunteers. It is really rewarding.
12.00pm - 1.00pm
During this session before lunch there will be either a group discussion or language activity, designed to help the Italian students improve their English speaking and comprehension skills.
1.00pm - 2.30 pm
Lunch together - Anglos and students sit next to and opposite each other so that the conversation continues to flow. Since you will be offered the best of Italian cooking, it is always a great source for conversation! This time is relaxed and easygoing and enjoyed by everyone.
2.30pm - 4.00pm
Rest time for all - you can have a snooze in your room, catch up with work, email your family, enjoy a coffee and read a book in a shady place or do anything you find peaceful.
4.00pm - 8.00pm
More one-to-one conversations, group activities, discussions and other communication-based activities to help our Italian participants develop their grasp of the English language. Sometimes you will be formed into small groups with a particular subject to debate, often controversial, which engenders passion. It is a great way to learn other people's point of view and to express your own, always within the bounds of courtesy and friendship of course.
8.00pm - 10.00pm
Dinner together - whether at the hotel or at a renowned local restaurant you will enjoy delicious and varied regional dishes while sampling local wines and enjoying great conversation.
10.00pm onwards
After dinner is the chance to have a little more fun in a relaxing environment – this is voluntary as you may wish to call it a night instead. You might be playing games or performing sketches or doing a quiz in teams. This is a bit of light entertainment to be enjoyed by everyone at the end of the day.
Other Events: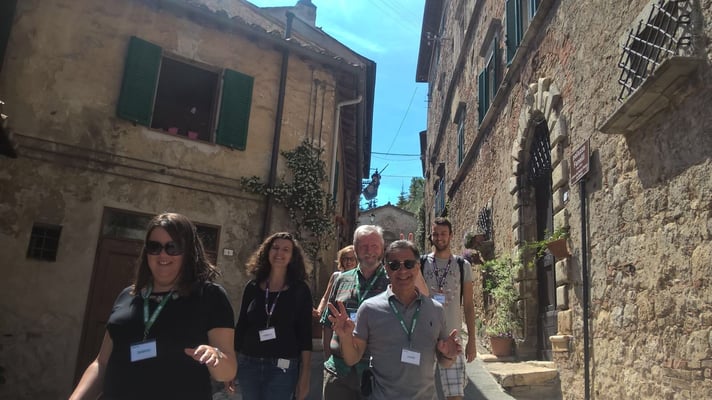 As part of the Speak Programme there are two cultural excursions, including an afternoon visit to a place of interest, often an ancient local Italian town. You might be given a quiz of several questions about places in the town which you and your team will have to find as quickly as you can. Everyone then meets in a nice bar to determine the winners. Alternatively, you might be given a guided tour in English.
These trips are interesting and fun, and allow you to discover points of particular attraction. There is also an evening excursion to a place of interest which includes dinner at a renowned restaurant to enjoy local specialities.
From my own experience, I should mention that you may feel a little tired for the first couple days - but as the days progress you will feel comfortable, at ease and delighted to be part of a unique experience meeting so many wonderful and interesting people of various nationalities.
---