What is language immersion? How can you become a volunteer? What do you need to know? Do you have to speak another language? Read on...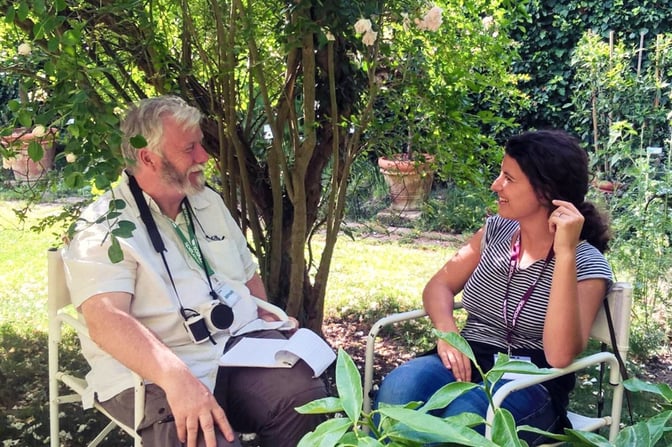 Would you like to spend time in another country and help local people to speak English? These days online courses are very popular and of course, there are conventional language schools. However, language immersion is proving to be one of the best ways you can learn to speak another language and so why not volunteer to become an "Anglo"? Fundamentally, you spend a short but intensive time with people who really want to improve their English in their country and all your accommodation and food is free!
Let's take English as an example. It is probably the most important language to learn but generally students find that schools and other courses concentrate on grammar rather on conversation and expression. Learners therefore can pass a written exam with excellent marks but still find it difficult to talk to someone and hold conversations in English.
How can I help to improve someone's spoken English?
One way is to go to an English speaking country for several months but this can be costly and means considerable time away from your home and job. An alternative is to take part in an English language immersion course. Usually these courses run for a week during which time you will speak nothing but English and the students will have to think in English and speak in English. It can be tiring but really worthwhile. Scientifically this has been proven to have the most positive results and many of the thousands of native English speakers who have volunteered for these courses return again and again.
How does an English immersion course work?
Usually there are volunteers (called Anglos) from a country where English is the mother tongue such as the United Kingdom, Canada, America, Australia and New Zealand to name a few. All the volunteers will have different accents which will be demanding but useful for the students and you, the Anglo, will spend most of the day in conversation with different people, an hour at a time, enjoying diverse conversations with people of all ages and backgrounds. Your job is just to speak your own language as naturally as possible and to help the students to talk. There will be activities and cultural outings too with the whole group. After 7 days, you will have made new friends and will be proud that you have helped people to perfect their English conversation.
Where can I find an English immersion course?
There are several companies in different countries such as France, Poland, Hungary, Spain and Italy which run English immersion courses and they have helped thousands of people to be fluent in English. They all work more or less in the same way with residential courses for a week at a time with native English speakers as volunteers (Anglos) and students from the country itself. The courses are all-inclusive, so your accommodation, meals, excursions and activities are covered. Once you arrive at your chosen location, you just have to think about speaking in English all day long! You don't have to be a teacher and people of all ages are welcome. Volunteer Anglos come from many different backgrounds with diverse life experiences and this is what makes language immersion courses so enjoyable - I write as someone who has been a volunteer in both Spain and Italy.
Making new friends
Apart from the educational benefits, these courses offer the opportunity to meet people from a variety of other countries, to get to know them well over the course of 7 days together, and to leave with the knowledge you have made some long lasting friendships. This is true for the students as well, who will have met you and other people like you who are there to encourage them to converse in English.
Have a holiday too
While you are helping local people to get to grips with spoken English you will also be enjoying time in Italy or Spain, or another country. You will learn more about the local culture, taste its cuisine and visit places of interest. In fact, you will be on holiday, staying in wonderful locations such as Tuscany or the province of Segovia.
So what are you waiting for? You can help improve fluency, meet new people and delight in your students becoming more confident in English, your native language.
I can honestly say my time spent as an Anglo at language immersion courses have been some of the most worthwhile experiences of my life.