Are you thinking about applying to Speak, but would like to experience our English Immersion Programmes in Italy together with your partner? We are often asked whether this is possible and how it works as a couple, and so we asked Anglos who have joined us previously as a pair to provide more insight...
Greg and Margot from the USA joined Speak on a Tenuta Centoporte Programme in Puglia.
"Remember the 80's military slogan "Be all you can be"? This phrase aptly describes the feeling you get while immersed in the Speak in Italy programme. Speak puts you in an environment, aka "the bubble," that connects you with a variety of warm and friendly people, fosters stimulating conversations, and provides unique accommodation and delicious local cuisine.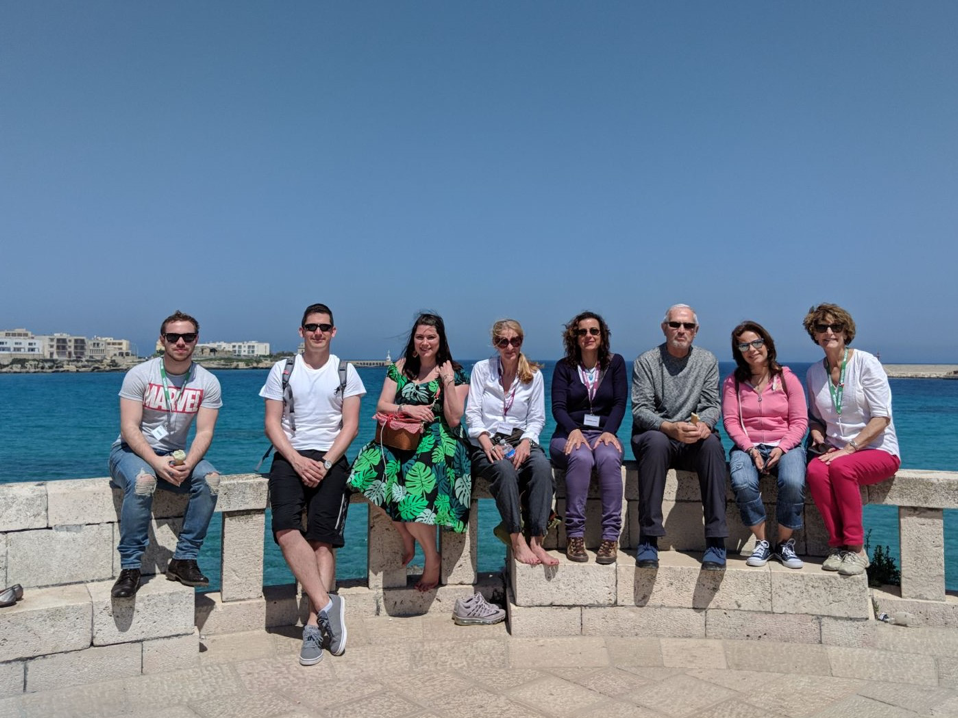 Speak Anglos: Greg, third from the right, and Margot, far right
From the pre-programme social get together through to the final meal, you feel the warmth and care of individuals associated with Speak. The programme is structured to make the most of your time. The offsite excursions and meals shared with your new Italian friends create memories not soon forgotten. In my opinion, Speak is best experienced as a couple rather than solo. The focus of each day is on helping the Italians become more fluent and comfortable with their English; however, being able to share little tidbits from your day with your spouse adds to your enjoyment. Just as a bottle of red wine is sweeter when shared with someone you love, sharing your successes with someone you love enhances the experience and your personal satisfaction.
You may think this programme is not for you, but if you like to travel to beautiful locations, meet interesting people, mentor others, and love to talk, you have found your tribe. Speak offers an out of the ordinary experience that you and your spouse can do together. Open yourself up and Be All You Can Be!"
Andi and Rich from South Wales joined a Speak Programme at the Abbazia di Spineto in Tuscany.
"We applied to join the Speak programme as a couple. We are regular travellers to Europe but we were looking for something a little different – a new adventure, a new challenge. The Speak programme did not disappoint! We loved every minute of it and it has certainly widened our horizons for future travel experiences.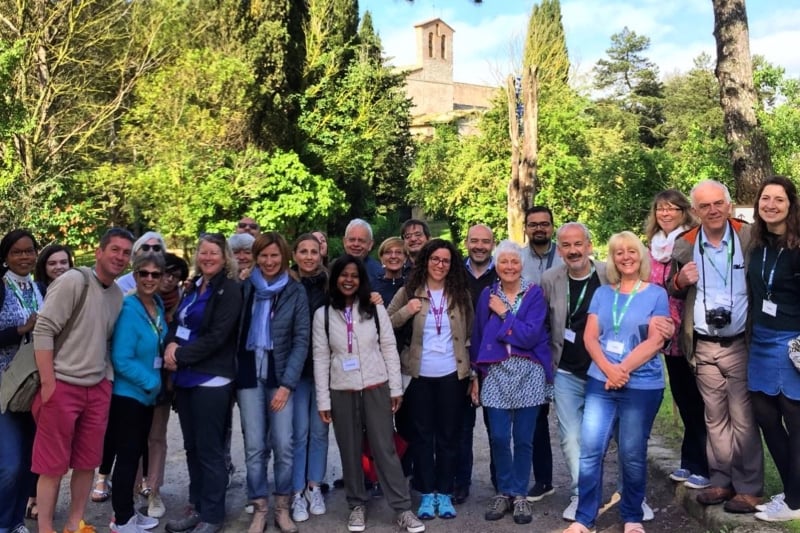 Speak Anglos: Andi and Rich, fourth and fifth from the right
The programme is extremely well organised and we quickly settled into the daily rhythm of life at the Abbazia in the Tuscan countryside. The accommodation, beautiful surroundings and the enthusiasm of the programme leaders created a unique atmosphere where learning in a fun way was central to all activity. Although we went as a couple, we both had our own individual experiences. We didn't really see much of each other during the day as we were allocated our own programmes to follow but it was refreshing to be seen as individuals both with something different to offer. It gave us lots to talk about when we had our free time together!
We returned home at the end of the programme feeling enriched and stimulated. We have made lifelong friends and will definitely be applying as a couple to be Anglos again".
Sue and Neil most recently joined Speak on the Tenuta Centoporte Programme last Spring.
"We have supported Italians on two Speak programmes. We are an English couple who have been married 50 years! We have curious minds, a love of travel, meeting new people, and enjoy different opportunities and cultures. Speak fulfilled all these criteria. The greatest joy Speak gives us is to support ltalians in their spoken English and watch their confidence grow.
Sue and Neil on the Tenuta Centoporte Programme
As part of the week there are visits typically to a restaurant and a place of interest. Also exercises 1:1 sessions, group discussions, and presentations. All these events are well thought out, and are like building blocks in an English bubble. The Italians build their vocabulary, idiomatically, grammatically and importantly their confidence.
As a couple we see and work with professional Italians with interesting careers away from a typical holiday environment, but always in a pleasant picturesque area. We travel as a couple and have always added extra days to our itinerary to allow us personally to see and become "tourists" in the different areas of ltaly.
When we are on the Speak programme we work with the Italians independently of each other, except in group discussions or at meal times, when we may come together as a couple. Socially in the evening and also when we retire to bed, we can then discuss our day. We both, after a full day with ltalian learners, feel tired, but exhilarated. A good job done!!!
We love being on the Speak programme and will definitely apply again".